A gallery wall can be a great way to add interest and personality to your home, but it can also be intimidating. What should you put up there? How do you hang all that stuff?
The hubby and I shamefully have almost nothing on our walls, particularly our living room wall. We are both photographers and have tons of images we could frame. My husband would like to have some of them put on a type of noise softening panel and I'm all for it, yet we remain paralyzed.
I thought I'd do some research on gallery walls and share some inspiration for you, just in case you are in the same boat as me. If you have completed a project like this, I'd also love to hear in the comments how you went about it.
This post contains affiliate links. I make a small commission from your purchases through these links. Thanks for your support.
A gallery wall can be a uniform collection of images like the grid style gallery wall. I love this one from Making Home Base.
A gallery wall can be a collection of art, findings and photos, like this one from Love Grows Wild.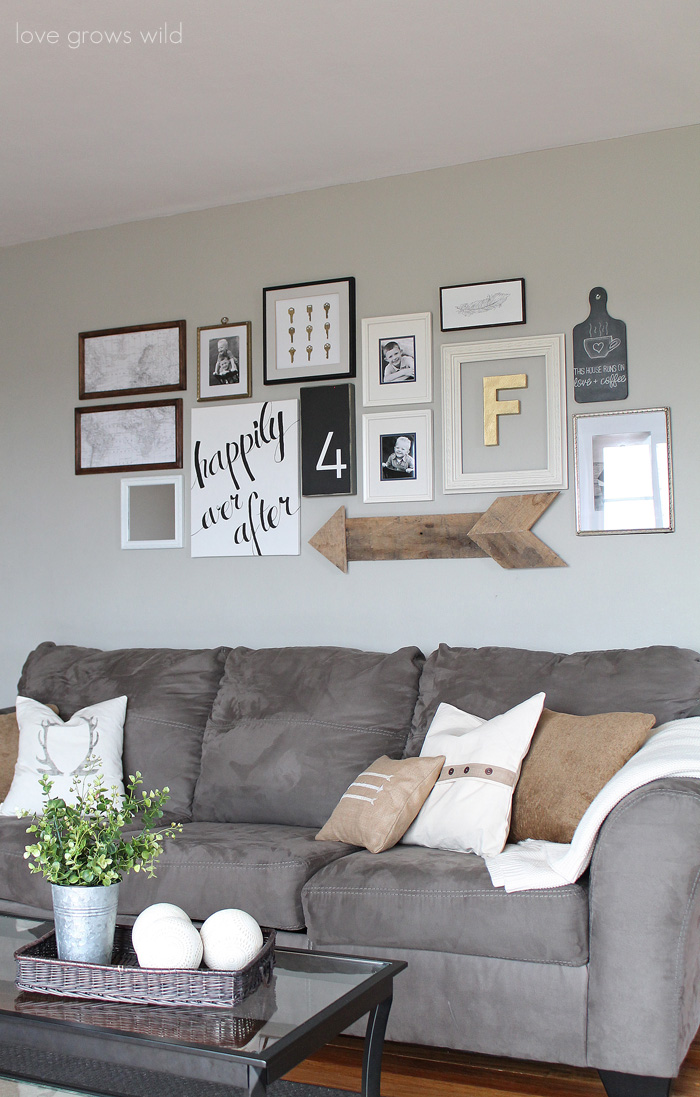 You can also create a gallery wall with shelves or photo ledges instead of hanging frames directly to the wall. Love this look from City Farm House.
Pottery Barn blog has some helpful tips on ways to arrange frames and One Kings Lane has more ideas on styles of gallery walls.
I have a mini gallery wall started in my office. I'm not even going to tell you how many years passed before we hung the shelves, or how many have passed since with me not putting pictures in those frames. I do have some photos picked out for them. I need to get in gear and finish this! Just keepin' it real.
So, do you have a gallery wall? Is is themed? All photos or a mix?
Last months Style My Home- Living Room